Introduction
The laptop you choose can have a major effect on how well your Noida tech demands are met. The best laptop rental services in Noida will be explored in detail in this article, along with the reasons why they stand out from the competition and how you can use them to make your life easier.
A Trustworthy Solution for Your Technology Needs
The correct laptop can make all the difference in today's fast-paced, technologically advanced society.
Finding the finest laptop rental services in Noida might prove to be a critical step in reaching goals for both locals and companies.
Technology enthusiasts can find a cost-effective solution from a reputable source who offers the newest and best equipment at a fraction of the price.
The Perks of Opting for Laptop Rentals
If you're still contemplating whether renting a laptop in Noida is the right choice, let's explore the myriad benefits that come with it:
1. Cost-Effectiveness: The Power of Savings
Renting a laptop in Noida is a smart economical decision in addition to being convenient. It's a practical approach to guarantee that you always have access to cutting-edge technology without making a significant initial outlay.
No matter, if you're a student, a working professional, or a business owner, choosing to rent a laptop, if you're a student, a working professional, or a business owner, choosing to rent a laptop enables you to better control your spending.
2. Stay Ahead of the Tech Curve: Regular Updates
The tech industry is evolving quickly. What is modern today can be outmoded tomorrow. You can make sure you're always utilizing the most recent technology by renting laptops.
For companies trying to keep their competitive edge and for consumers who value the performance bump that comes with newer models, this is especially important.
3. Flexibility in Tech Choices: Tailored to Your Needs
You can have the freedom you need with laptop rental services. Whether it's for short-term tasks, long-term commitments, or trying out various models to find the one that works best for you, you may rent a laptop that properly satisfies your unique requirements. It is important to have technology that adjusts to your demands rather than the other way around.
A Spectrum of Laptop Options
The wide variety of options offered by laptops on rent in Noida is one of their notable features. You can consider the following choices, for example:
iMAC: Your All-in-One Powerhouse
Both newcomers and seasoned experts alike favor iMAC. Sizes 21.5 inches, 24 inches, and 27 inches are available. There are also other options available for the 24-inch and 27-inch models.
The iMAC is the ideal option if you're looking for a complete computer system that includes a keyboard, mouse, monitor, and trackpad.
MACBook/Pro: Slim, Lightweight, and Efficient
The modern design and portability of the MACBook series, which includes the MACBook and MacBook Pro, are highly praised. There are two different kinds of these computers, each with a special set of benefits.
MACBooks have a longer battery life because of its low power consumption and ability to avoid overheating. There are two sizes of the MacBook Pro: 13″ and 16″.
However, there's still more! If you live in Noida, we have MacBooks you may rent, making the transition to Apple products simple.
MAC Mini: Small Yet Mighty
The MAC Mini has been gaining popularity as a result of its small and portable design. Despite being small (19.7 cm display), it has an 8-core CPU that makes it powerful.
This cutting-edge MAC device is well recognised for having an 8-core GPU, making it a popular option for people looking for speed and power.
iPAD: Versatility in a Compact Package
The 10.2-inch screen on the iPAD provides flexibility and simplicity of usage. It has a 10-hour battery life and supports both quick wifi and cutting-edge 4G LTE.
Shape recognition and note-taking are just two of the smart features offered by the new iPAD. The iPAD is a well-liked option among seniors and students because of its lightweight and small form.
These choices are available in addition to servers and workstations that are built into a stainless steel space frame and provide 360-degree access to all of their components.
The MacBook Pro notebooks contain a maximum of 28 cores for individuals who require the highest level of CPU performance. For business professionals that need high-end processing capability, they are the ideal option.
Benefits of Renting Beyond Budget Savings
Beyond cost savings, there are a number of important advantages of renting a laptop in Noida: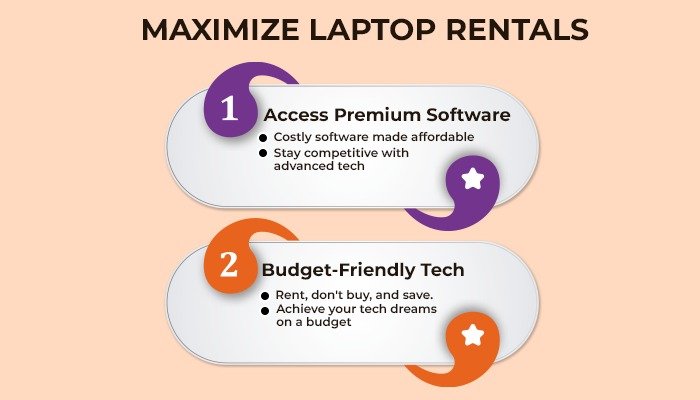 Access to Premium Software
High-end software might be costly to buy. Cutting-edge technology is frequently needed in many professions and businesses, like trading and coding, yet it can be very expensive.
But you may affordably get the most cutting-edge applications by renting a laptop. This implies that even the common individual can benefit from the luxury of utilizing cutting-edge technology to compete in the market and maintain parity with their rivals.
Surpassing Budget Constraints
The cost to rent a laptop in Bangalore is significantly lower than the retail prices of these devices.
With renting, you can potentially access a laptop that might otherwise have been too expensive for you to purchase. It's a gateway to experiencing your dream laptop without straining your budget.
Choosing the Ideal MacBook Pro in Noida
Here are some crucial rules to go by if you're thinking about renting a MacBook Pro in Bangalore:
Verify the authenticity: Make sure the rental company you are working with is legitimate and registered. You can avoid potential scams and shady businesses by taking this step.
Investigate Variety: Look for a supplier that provides a wide variety of MacBook Pro choices. You have a better chance of finding the ideal model that meets your demands if they provide more possibilities.
Swift Delivery: If you need a MacBook Pro for a project or specific purpose, time is of the essence. Pick a company that offers prompt and dependable delivery services.
Technical know-how: Understanding MacBook technology is essential. Choose a service provider who is familiar with Apple devices to ensure you get the greatest assistance and direction.
Excellent Support Team: Anyone can experience technical problems. Choose a service who has a knowledgeable support staff available to help you. The more quickly the problem is fixed, the better for your output.
Remote Support: You can get assistance through remote support services without the requirement for an on-site visit, which will save you time and hassle.
Discounts for Large Rentals: Look for a supplier that provides discounts for large rentals if you need to rent several laptops or if you need them for a lengthy period of time. Your expenses may be greatly decreased as a result.
Conclusion of Laptops Rental Service in Noida
Renting a laptop in Noida opens up a world of opportunities in addition to providing access to technology. It's a sensible decision that guarantees you always have the newest technology at your disposal.
Renting a laptop may up your IT game without breaking the budget because to its vast range of options, flexible terms, and several advantages.
Order your Apple product right now from our website for a hassle-free and successful workday. These top-of-the-line items are available at Laptops On Rent for great prices.
Not only does renting save you money, but it also enables you to invest that money, watching it grow through compound interest. Beyond this, upgrading your laptop every year can be an expensive endeavor, often beyond the reach of the average person's budget.
But with renting, you can make the process far more affordable, allowing you to upgrade your equipment as often as you can afford.
You're making an investment in your future by selecting a Noida laptop rental provider. It's a way to remain ahead of the curve in technology and make sure you always have the greatest resources available to you.
Additionally, you can benefit from having access to premium software and maintain your competitiveness in your industry. It is impossible to dispute the flexibility and cost savings. So why wait? Purchase the laptop of your dreams for a price that fits your budget.