To keep up with the pace of technology, one must keep updating the IT devices they are using. No matter where your professional journey has come, one always hesitates to invest their hard-earned money in fixed assets by rent MacBook pro.
If you have the requirement for a MacBook at a certain stage of your career, it is always advisable to Rent MacBook pro in India from rental agencies.
· In maintaining a high status in society, today's generation believes in having a higher and more expensive version of IT devices, and the MacBook is one of them, which signifies a high echelon.
So it's great to rent MacBook Pro for the desired amount of time from a reliable service provider like Laptopsonrent, which will not only save you money but will also help you to maintain your status symbol.
· The renting option keeps you from impeding your cash flow, which you can use in other demanding divisions. It helps maintain the right cash flow by locking your money in fixed IT hardware assets. One can rent a Mac Mini, an Apple Laptop, a MacBook pro, or a desktop according to their preferences.
· Rental MacBook Pro 13 gives you the leverage of providing flexibility to your workers to do their work efficiently from anywhere. After COVID, the work culture has totally changed.
Every company has the policy of WFH, and many of their employee's work requires extensive travel, making the employer get a lot of rental laptops instead of investing in buying them.
· Rental agencies provide you with the benefit of updating or exchanging with the latest technology available in the market. The MacBook Pro 13 has immense demand in the market due to its various outstanding features like battery life, strong built-in security features, easy software updates, and efficiency in handling heavy workloads. 
Some are even brand-conscious and take great pride in having Apple Brand products. So the best way is to hire a rental service provider to rent Apple laptop or a MacBook Pro laptop.
Why is Hyderabad the best place to live and work in the IT sector?
Hyderabad is the leading technology hub in the country and also contributes efficiently to the GDP of India. Hyderabad, being a diversified cultural city, is well known for its dignified heritage, mesmerizing infrastructure, and lip-smacking cuisine.
The City of Nizam has its own history and legacy, as well as superbly embedded technologies, and has attracted large tech giants and other companies around the world to make its biggest offices outside their headquarters.
Even the government is taking many powerful steps to strengthen the technology in their departments. They are also implementing a plan to adopt emerging technologies for the upliftment and efficacy of their department; consequently, the need to rent MacBook Pro for complex work is the need of the hour.
Hyderabad, being the fastest-growing city, has gained immense interest among overseas investors, resulting in the opening of many IT offices and the development of real estate.
Therefore, there is an increasing demand for IT devices for use in corporate offices and government departments, and the best way to meet the demand is to hire rental service providers to cater to the needs of desktop on rent near me.
Where can one get a MacBook Pro for near me in Hyderabad?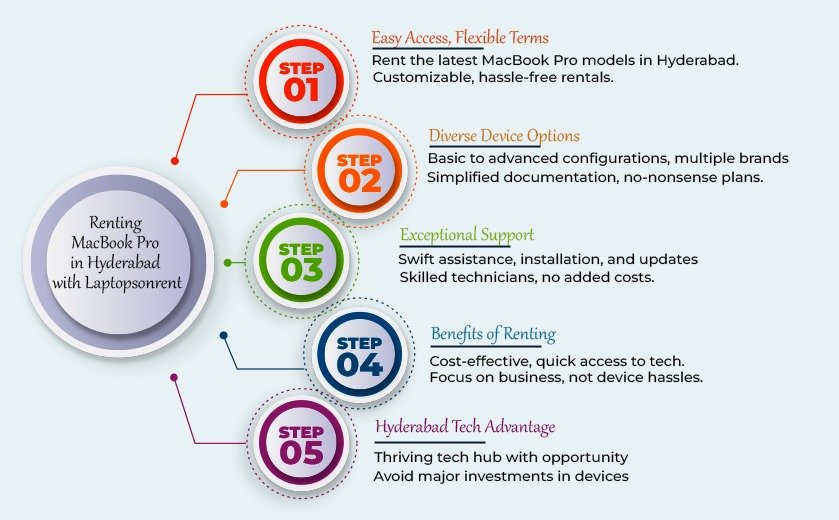 Laptopsonrent, being the leading rental service provider for various IT devices across India, along with an option to rent MacBook Pro in Hyderabad, is prevailing because of its various distinguishing features.
· Laptopsonrent comes up with the objective of providing all the latest and most progressive laptops and desktops in every part of the country, including Hyderabad, Pune, Gurugram, Mohali, etc. One can rent MacBook Pro in India for moderate pricing anytime for any specific time period.
· Laptopsonrent has an easy documentation and rental process with great affability in their plans. Here, less paperwork is involved, and one can customize their plans in compliance with their needs and requirements.
· One can go from a fundamental to an advanced-level configuration device from Laptopsonrent in Hyderabad and other parts of the state and country. Ranging from all brands, like Apple, Lenovo, Dell, HP, etc., you can also rent MacBook Pro, your personal favorite.
· The best and most speedy support system provided by Laptopsonrent makes it a prominent rental agency in the country. Installation, easy updating, delivery with lightning speed—all these without any additional cost—and many more unique components are given to the customers, along with the best technicians for the technical glitches.
If you want to rent MacBook Pro in Hyderabad or, for that matter, in any part of the country, the service you get from Laptopsonrent is unmatchable.
Renting different IT devices like the MacBook Pro, Mac Mini, etc. from laptopsonrent is a great option because of the different benefits provided by the company, like cost-effectiveness, flexibility, access to the latest technologies, getting quick and best technical support, and many customer-friendly rental schemes.
Apple is the trend-setter and most-loved brand in the market and always has an edge in customer's minds. To possess a branded and latest device, the best alternative is to rent MacBook Pro instead of buying it.
With the hassles involved in the IT devices and their maintenance, one can easily concentrate on the other areas of the business to excel.
Hyderabad, being a technology hub, gives everyone a fair chance to achieve success, and along with the rental service provider being easily accessible to all, one can prevent oneself from investing a huge amount in the procurement of bulk or single-advance devices.
You can easily rent MacBook Pro for your personal use or for official use when you are traveling to any city for work and you are in need of it for any specific time.