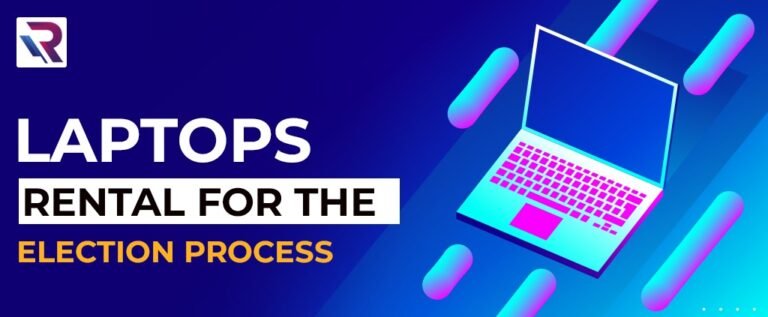 We have you covered with the best laptop, computer, printer, and networking equipment rentals as the Lok Sabha and Vidhan Sabha elections approach! Members of the Lower House might be allowed to use tablets, computers, and mobile devices there.
It might only be a small step for the Lok Sabha, but it could be a significant one for the digitalization of the Indian Parliament.
Along with the date of the Lok Sabha Election in 2024, the calendar for all the elections will be made public in January 2024. This letter is designed to inform you that this year there will be a number of elections.
Before that, though, you should be aware that the election dates are only estimates because they need to be held before the current term ends.
Beginning in January 2024, there will be elections for local assemblies in a number of cities. In the 2019 Vidhan Sabha elections, states such as Uttar Pradesh, Andhra Pradesh, Karnataka, Telangana, Maharashtra, and Bihar will be up for election.
Through state elections, the general public chooses the members of a Vidhan Sabha. Members of the Legislative Assembly, or MLAs, are what they are called.
We are here to provide you with the Laptop rental for the election or servers on rent for election purposes and help you conduct the procedure without facing any difficulty.
Election & Political Campaign Rentals 2023
Election Tech Rentals by LaptopsOnRent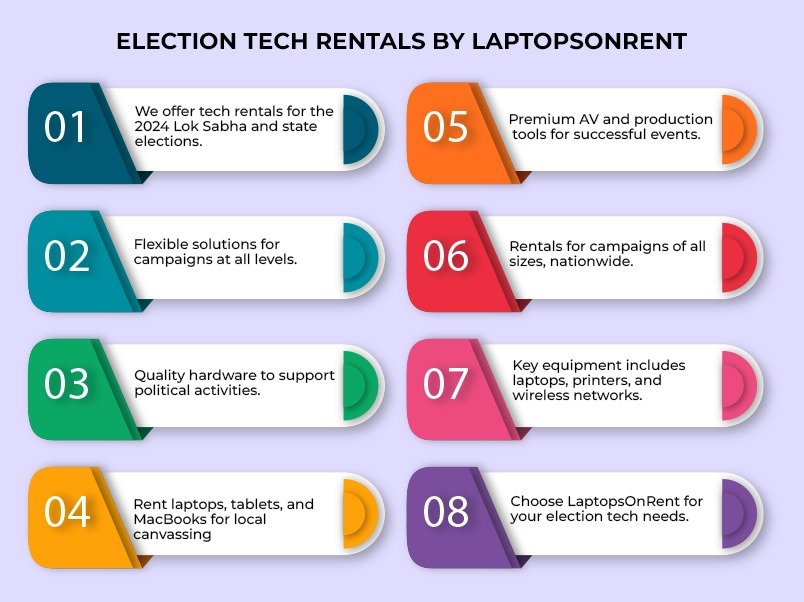 LaptopsOnRent has all of your Laptop rentals for election needs covered for every sort of election. Regardless of whether you need campaign management services at the municipal, state or even national level, LaptopsOnRent has the ideal answer for renting campaign technology.
We are aware that campaigns frequently change course to better communicate with the general population.
We will make sure that the election technology rental equipment you require is there, set up, and ready to help you win, wherever you go by collaborating with LaptopsOnRent.
We provide a variety of Laptop rentals for elections for rent that can assist campaigns in reaching their target demographics and swaying the voters who are still indecisive. Technology rental scenarios covered by LaptopsOnRent services include:
Laptops on Rent for Political Parties & Fundraisers
We at LaptopsOnRent Technology Rental recognize how crucial it is to maintain contact throughout political campaigns.
That is why we offer a variety of computer hardware, such as laptops and laptop computers with printers, to political parties and fundraising events.
We have top-notch equipment that may be used for a range of campaign requirements, including data collection and volunteer recruiting.
Our team of skilled specialists is always accessible to provide support and ensure seamless technological integration, and we provide customizable leasing plans to match your campaign's budget.
Laptop rental for the election process near me
We provide a wide range of computer equipment rentals that are perfect for campaign canvassing. The most recent software and features on our rented laptops, tablets, and MacBooks can be extremely useful when organizing campaigns and conducting outreach.
Any political campaign, including those at the state and municipal levels, can use our leasing policies since they are adaptable and can be adjusted to their unique requirements and financial constraints.
Our group of skilled experts offers on-site assistance (Laptop rental for election) and can make sure that your advertising efforts go off without a hitch. LaptopsOnRent Technology Rental is the perfect partner for your political canvassing efforts because of our competitive rental rates and high-quality supplies.
Laptop Rental for Election Campaigns
An unforgettable political campaign is made possible by high-quality equipment. We provide a large selection of premium audio-visual and production tools for political events and rallies because of this.
We provide everything you need to make your campaign events successful, including cutting-edge sound systems, government laptops as per your need, projectors, staging, and lighting tools.
Furthermore, we can offer qualified experts to make sure everything goes without a hitch, providing you peace of mind and enabling you to concentrate on your campaign.
Rentals for National, State & Local Campaigns
We provide a wide selection of rental laptops to ensure that political campaigns of all sizes are productive and connected. When you rent a laptop from us, we ensure it comes with everything campaigns need to keep organized and interact with supporters and workers, from servers to laptops and virtual meeting tools.
We can assist campaigns across the nation in obtaining the Laptop rental for election they require at the appropriate time thanks to our extensive distribution network.
The equipment we sell is always in good condition thanks to our cutting-edge inventory management system, and our staff of professionals is accessible around the clock to provide technical assistance and advice.
Running a local or global campaign? LaptopsOnRent Technology Rental is the wise decision for all of your campaign laptop computer rental requirements.
Campaign Technologies for Rent
The key to success is deciding the technology that the campaign needs to hire to deliver the desired election results. Everything you may need to rent for the Laptop rental for election process near me is available at LaptopsOnRent:
Laptop Rentals:
One of the most basic aspects of renting for political campaigns is laptop rentals or computer rentals. Laptops can be used for polling, phone banks, and other database-related tasks that are part of every election.
For your candidate, we have thousands of computers available for deployment across the nation. For war room conversations and contract workers, laptops are ideal.
Printer Rentals:
We offer a brilliant range of business-class laptop computers with printers to make printing handouts, flyers, and daily schedules simple.
Wireless Network Rentals:
With our wireless internet equipment rentals, you can ensure that your campaign staff is always online.
Why LaptopsOnRent?
At LaptopsOnRent, a significant portion of our concentration is on campaign and election rentals.
Numerous Rental Options for Elections and Campaigns We have a sizable selection of laptops, desktops, and computer rentals, as well as MacBooks, Hot Spots, and a lot more, all of which are available for rental during elections.
The fact is that you need to engage with a business that is familiar with the dynamics of elections and rental agreements for political campaigns.
That company is called LaptopsOnRent. For many years, we have rented election equipment to campaigns and political parties. You need a partner who is knowledgeable about all the nuances of election rentals if you want to succeed.
Summing it up!
With each election rental from LaptopsOnRent, your campaign succeeds. Our selection will allow you to stay focused on what matters rather than stressing about having the correct technology, and our rates are the best in the nation.
Nearly every item you rent for the election is included in every campaign rental as free spares. We keep you going all the time while you pursue triumph.
We'll make sure that your laptop computer rental equipment comes with everything preloaded and prepared once you've created your master pictures for your election technology rental. With LaptopsOnRent, hardware problems won't take up any of your precious campaigning time.