Renting a laptop for personal use instead of purchasing them new reduces the annual production of e-waste. When you hire computers from LaptopsOnRent, we ensure that your equipment is disposed of correctly after its useful life has ended. Before disposal, we also make certain that all data on the device has been erased.
Renting is a terrific method to reduce your impact on the environment. Instead of being thrown away when laptops are no longer required, they can be returned and recycled. As a result, less electronic waste is produced from machines and equipment that are being trashed.
Whether you need a computer or laptop, renting one in India can be a great alternative to forking out a lot of money to buy one. While some businesses are looking for computer equipment to use daily, others are looking for technology to support them during an event or meeting.
Here are a few benefits that will influence your decision if you are considering renting a laptop or hiring a computer for your start-up.
The present pandemic has started to gradually move away from desktops and toward smaller, powerful laptops. Compatibility is the main driver for this modification.
The laptop may be effortlessly transported to any area. Companies are transitioning from desktop PCs to laptops. However, businesses and customers are unable to buy high-end laptops due to the financial crisis.
Fortunately, there are several reasonably priced laptop rental companies all around the country when you want to rent a laptop. Corporate businesses can choose the ideal laptop for their resources by using the work-from-home laptop rental choices.
Some people may wonder why renting is a preferable choice to buying. This is a legitimate query with some noteworthy supporting evidence. However, we have provided some explanations for the enigma surrounding the rental of computers in Bangalore. Let's start with the benefits of renting that make it a viable choice.
Benefits of renting vs. buying laptops | Renting a Laptop
Every organization faces a different set of difficulties, but they all struggle with the management and upkeep of its IT infrastructure. It is therefore wise to look to rent a laptop from computer equipment and computer rental businesses.
There are several benefits to renting. Renting desktops and printers rather than purchasing them can benefit your business in several ways. Let's examine a few of them.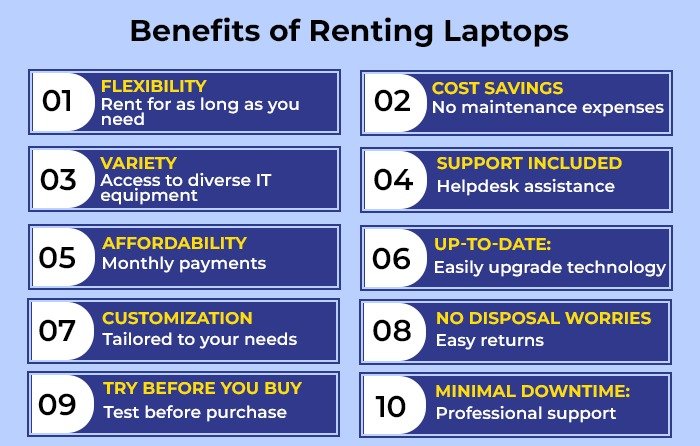 Flexible Term
A laptop on rent for personal use provides a level of freedom that buying does not, which is one of its key benefits. How long will you require a piece of equipment? Renting is the best option if you require certain equipment for a limited time. The majority of vendors provide variable leasing periods tailored to your organization.
Renting laptops allows you the freedom to replace or update your equipment as your company's needs change. For instance, switching to a more powerful laptop is simple if you need to undertake complicated activities or larger projects. You won't need to bother about selling or discarding your previous laptops.
Save money on repairs
The responsibility for the laptop you buy rests with you. All responsibility for maintenance and upkeep rests with you. It is appropriate if it is a long-term commitment for a company that is established with a high rate of turnover.
You can prevent this by renting a laptop and relying instead on your IT rental business as servicing is often part of their job description. If you make your installment payments on time, you won't have any trouble maintaining your machines.
Variety
You can hire a variety of IT devices to meet your company's demands when you want to rent a laptop near me. The most often rented items by enterprises are laptops, iPads, plasma/LED screens, smartphones such as iPhones servers, projectors, and a variety of other items. One of the most popular options when it comes to company rentals is laptop rental services.
Maintenance Costs
Forget the hassle of attempting to resolve IT issues and the inconvenient cost involved. Helpdesk support is often a common feature of high-quality laptop rental providers.
Calling a trained professional for installation, setup, or maintenance assistance puts you just a simple phone call away from assistance. It's important to check to make sure this is included in the rental package.
The fact that renting computers might be more affordable than outright purchase is one of their key advantages. This is particularly true for new companies and small firms, who might not have the funds to buy the newest computers.
Renting a laptop enables you to make monthly payments, which may be easier to budget for than a sizable initial outlay.
Latest Teach
You won't have to worry about updating your laptop computer if you decide to rent one. The devices you rented can be changed as required. You only need to make a request, and you'll have the setup you desire within 24 hours.
If you were to do this, your expenses might be much reduced, and if you were running a business, all of your employees would be content. Keep in mind that progress necessitates both intense effort and contentment.
One of the major benefits of renting a laptop is that IT equipment becomes outdated quickly. When you buy a PC, you are forking out a sizable sum of money for IT hardware that you will eventually need to replace.
When a better model is out or your contract expires, you may always upgrade if you check into laptop rental services. Additionally, you don't have to spend a lot of money, and you may use your leftover profits to expand your company.
Configure according to your needs.
An IT rental can often take care of it for you, regardless of the configuration and number of laptops you need. Sometimes, even with preparations for bulk purchases, it is impossible. Ideally, you might also ask for a modification that is better based on the process and demand.
No Disposal
Due to stringent government environmental compliance standards, disposing of IT equipment presents a significant difficulty. You can return your rented laptops and comparable items, such as gadgets, printers, and desktop computers, with simply a phone call if you use laptop rental services.
By doing this, you will experience less bother and spend less money than you otherwise would have to for safe disposal.
When you hire a laptop, the rental provider typically handles support and maintenance. This means that the rental company will take care of any repairs or malfunctions for your laptop, minimizing downtime and the effect on your business operations.
Try and Buy
By using Rent a Laptop Near Me services, you can test the model to see if it meets your needs before deciding to buy it. The same applies to other IT hardware as well. You can try it to see if it truly outperforms your current equipment and if it can accommodate your company's requirements.
Therefore, it is sensible to look into rental services to be sure you can use a piece of equipment before investing in it.
When compared to purchasing, renting computer supplies for business is always the better option. Renting has more benefits than buying, which tips the scales in its favor even though buying has its advantages.
Before you make your choice, consider the advantages and disadvantages and choose the one that best satisfies your company's demands.
Increasingly, people are choosing to rent instead of buy. Renting provides you with the "Try before you Buy" option, which is an excellent and cost-effective approach to determine if you like an item or not.
These days, renting computers and other IT equipment is simple and only requires a Google search. Finding a trustworthy source is something you need to be concerned about.
Online, there are numerous possibilities, one of which is on. They offer flexible leasing alternatives with no upkeep fees.
Summing it up
Given the aforementioned considerations, renting a laptop is a wise decision that will enable you to stay current with cutting-edge technology. For employment and businesses, laptops are essential. Instead of buying a laptop, you might rent one.
This will increase your savings and provide you the chance to thoroughly inspect the product up front. Investigate the top laptop rental companies in your neighborhood.
Many individuals might not have thought of renting a laptop, but if you think about the many benefits of doing so instead of buying one, you could be tempted to do so.
Renting a laptop might be more cost-effective than buying one if you don't need to use one all the time. Renting a laptop is superior to purchasing a brand-new one. With no worries, you may regularly upgrade to a newer model and stay up to date with technology.